Dropship Downunder is a course from Klint and Grant Parker that's geared towards Aussies to show them how to start their own successful dropshipping business online.
If you're looking for more details about this course, this review should answer your questions.
Here's everything you need to know about this course.
What Is Dropshipping?
Dropshipping is a relatively new type of e-commerce business that allows you to make sales without the need to stock any of the products yourself. Basically, this means you set up an online store and then buy your goods from an outside company when customers need them.
Dropship Downunder mainly targets customers in Australia. When a customer buys something, the store (you) orders it from a cheaper online supplier like Aliexpress and they deliver it to the customer.
Who Created The Dropship Downunder Course?
Klint Parker and Grant Parker are the course creators. Klint is an Australian living in Thailand, while Grant is a designer living in Amsterdam. It's understandable that some people may be skeptical.
They might think he's trying to avoid Australian laws or something like that. But personally, I don't think that's the case. Thailand is popular with marketers because it can be so cheap.
There are also complaints that he's a scammer.
I don't know if that's true, but it sounds like he charges a lot more than what people would normally pay.
How Is The Course Structured?
This course consists of 10 modules. The content of this module is broken up as follows:
Module 1 – Business set-up: The first module is a short one that gives you the basics of starting your business. It also outlines Australian law as it applies to dropshipping.
Module 2 – Choosing a niche: This module talks about how to decide which niche your company is going to be in. It includes pricing, brand loyalty, and target markets.
Module 3 – Researching your market: This section picks up from the end of the last section. Section 3 will cover how to validate your niche by investigating it and deciding if you can succeed with it.
Module 4 – Setting up a store: Shopify is the platform you'll be creating your store on. They are the most popular for dropshipping although can be quite complicated at times. The rest of this section will walk you through how to use Shopify to create your own dropshipping store.
Module 5 – Finding suppliers: To get the best products that your customers will love, you need to reach out to good suppliers. Learning these skills will allow you to create authentic relationships with people across various channels, and have enough confidence in what they are selling.
Module 6 – Paid leads: I felt the traffic section could have been better. There are only four different video examples but my favorite e-commerce course has about 98 traffic videos.
In this section, you'll be learning about Google shopping ads, re-targeting ads on Facebook as well as Influencer marketing.
Module 7 and 8 – Free traffic: Module 7 teaches you about driving traffic to your website using free Facebook strategies, whereas Module 8 is about finding and developing your niche.
There are many important aspects to think about when starting an online business; traffic being one of the most important. If you don't have traffic, it doesn't matter how good your service/product is - there will be no customers.
If you're thinking about Dropship Downunder as a business model, you need to consider both sourcing quality products and getting traction.
Module 9 - Email marketing: There's only one lesson about email marketing and I feel like there should be more. I would love to have some lessons about building a customer base, segmentation, list building and drip campaigns.
Module 10 – How to move forward: The last module covers the following topics: How to build an authority blog to get customers, community and business building.
Hoe Much Does The Course Cost?
The program retails for AUD2,997 which will give you lifetime access to everything they teach. They also have an Upsell that provides more detailed help with Shopify and paid ads to get more traffic.
Dropship Downunder Video Review
What We Don't Like About The Course
The traffic training offered by Dropship Downunder is pretty short which can make it hard to develop the skills needed to generate targeted traffic to your site. As an example, the Facebook section is all done in one module.
It would be nice of them to provide more detail, but there just isn't enough here.
There's a lot of ecommerce courses out there now, some are quite good and the others not so much. Course prices vary but most offer considerable value for the asking price. However, that doesn't mean that they're always best.
Online courses are often quite expensive, and this is one of those I probably wouldn't recommend. There's plenty of other courses that are priced lower that offer better value. I definitely want to discourage people from paying so much since it doesn't give many benefits.
And lastly, they have a refund policy which is good.
The company's refund policy is 90 days. You'll get all your money back as well as $100 on top. But, keep in mind that this isn't a no-questions-asked policy and will ultimately be up to the product creators to make that final decision.
Is Dropship Downunder A Scam?
It's not a scam, but I think it's a little overpriced for what it is. I mean, it's a decent dropshipping course, but not cheap and not for everyone especially if you have no products and are a complete beginner.
Dropship Downunder Review - Final Thoughts
The one thing I will say about dropshipping is that it is a difficult business model to execute well. Since you are selling physical products, the margins that you make on sales is generally very low. That means it becomes a volume game in order to hit bigger income goals like 10-20k a month.
So in the end, you'll need to sell hundreds of units of products a day, which means you either need to work 15 hour days or hire a team.
Shopify (eventhough is a software) is extremely manual. You need to approve every single sale that comes through and you need to manually order the product on your suppliers website to send the actual product to your customers.
Think about how much work that actually is. Hundreds of transactions that need to be done by YOU every single day.
That sounds like prison NOT freedom to me.
Too manual for my taste.
Also, the only real way to grow big is to use paid ads. So if you don't have a budget for that, then you can't really make this business model work.
If you're looking to go grow a business on the Internet, there are a few things that you really should consider...
There is one business model that beats Dropshipping in ALL of these areas.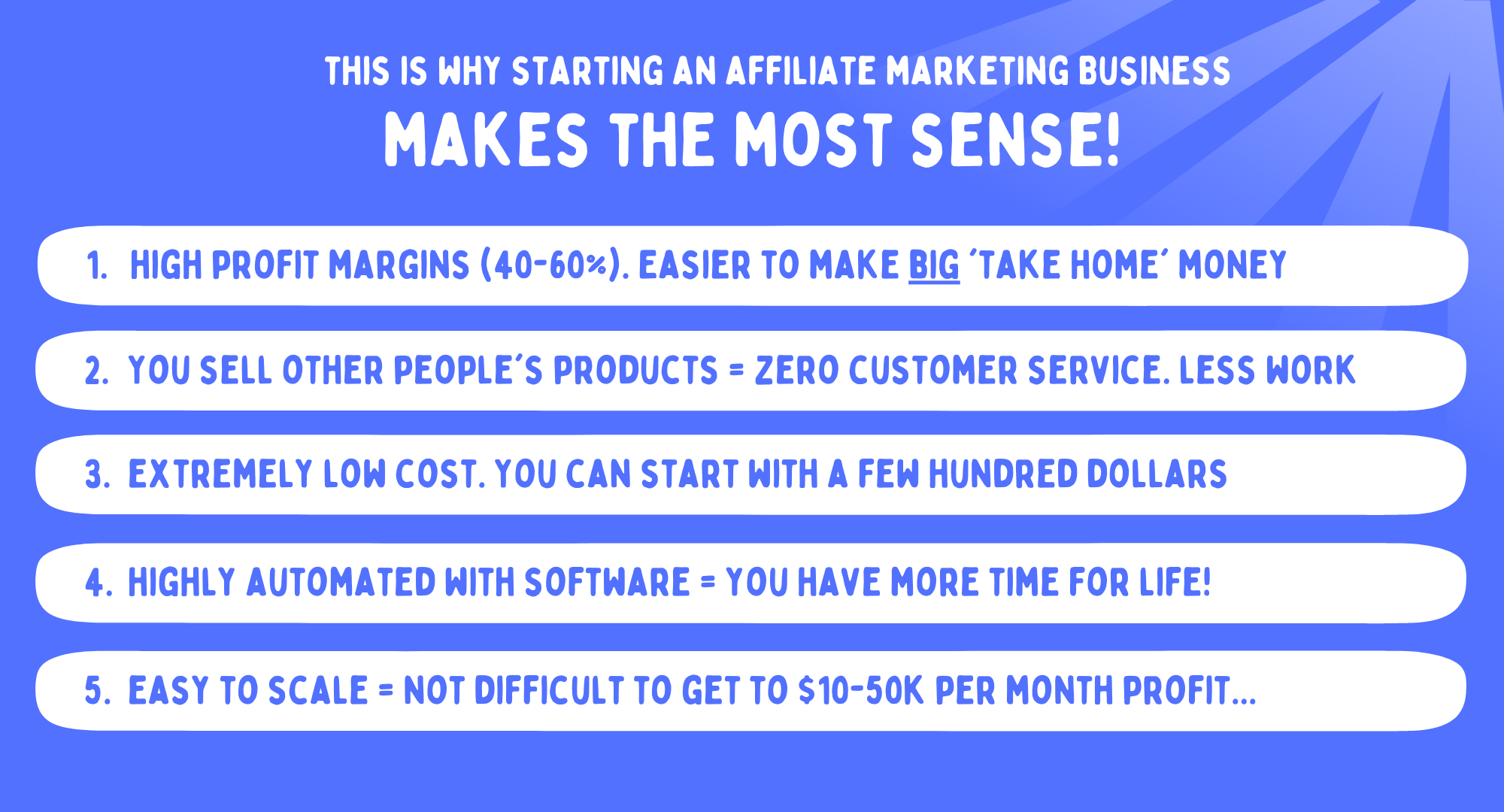 This is the industry that allowed me to 5X my old work salary and quit that job in April 2019 and travel the world.
If you'd like to find out more about how to model exactly what I did…